Some of the recent awards our cats have won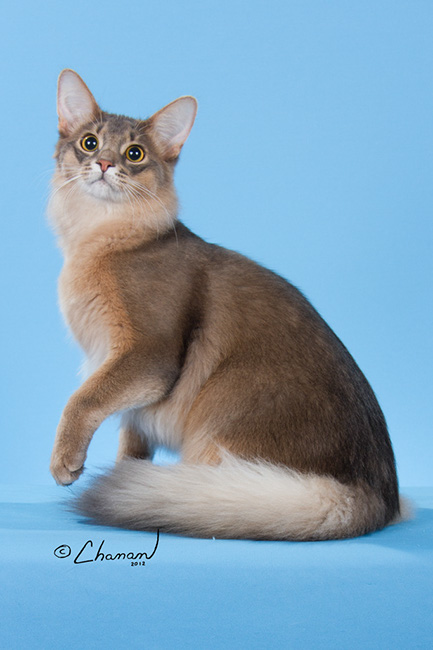 At Sunfox we are especially proud of this boy, who we call BJ.  BJ is CFA's first dilute best of breed Somali - "BW" for Breed Winner.  While there have been other dilute (blue or fawn) Somalis in the top 3 breed placements over the years, BJ is the first to go all the way and earn the title.

To learn more about BJ and see more photos, click on his name above in red.

Sire:   CH Tamarakatz Fool's Gold of                             Sunfox

Dam: CH Sunfox Misty Blue, DM

2012-2013 Season Awards:

CFA's Best of Breed Somali

Southwest Region's 8th Best Cat

and Best Somali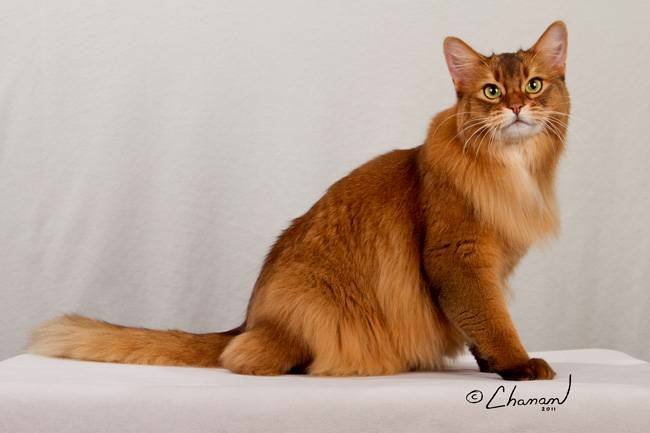 2011-2012 Season Awards:

CFA

Southwest Region's

13th Best Cat in Premiereship

Minuet is not short on awards, and this season was no exception.  Please click on her name above in red to see more photos and learn more about our sweet Minnie.

2011-2012 Season Awards:

TICA

Best Somali Kitten

Southwest Region's

8th Best Kitten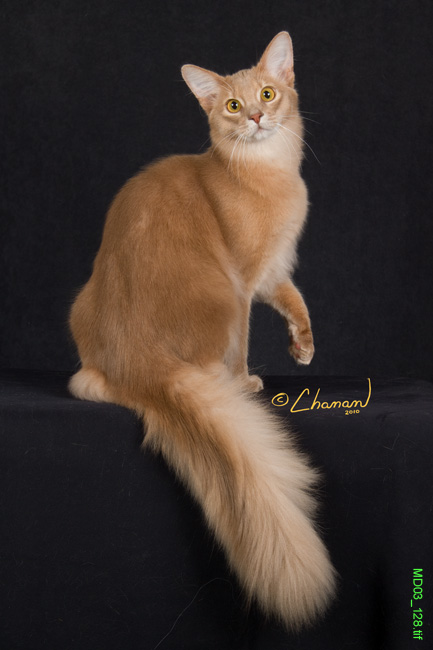 RW Tamarakatz Fool's Gold of Sunfox, fawn Somali male. 

Sire:   GP Sunfox Mankato. 

Dam:  Tamarakatz Short and Sweet

The Fool (as we like to call him) is father to BJ (above) and grandson of Minuet.  Fool has the warmest undercoat I've ever seen on a fawn.  Unfortunately, it is so warm it became difficult to see the contrast in the ticking as he grew up.  We kept our fingers crossed that he'd pass his color on to his offspring, and he graciously gave it to BJ.  Fool is the father of several cats on this page, above.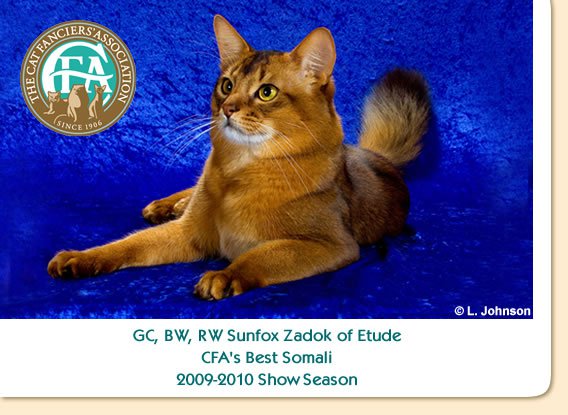 Well, the photo above tells the story!  This is our first Best of Breed Somali.  His mother, Minuet, was the first ruddy female to place in the top 3 in breed (she was second best of breed 2007-2008 season) so it's only right that her son should take the top prize!  Zadok is owned by Etude Somalis in the San Francisco Bay area.
To left is Zadok at a show, obviously having a VERY good time!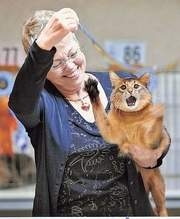 This page was last updated on: February 28, 2016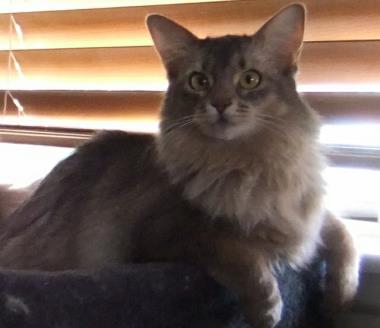 2013-2014 Show Season Awards

Sire:   CH Tamarakatz Fool's Gold of              Sunfox

Dam:  CH Sunfox Misty Blue, DM

We started taking Baby to cat shows recently to find her a forever home.  We entered her in competition to give the judges another cat to look at while we were trying to grand Baby's 1/2 sister Gracie.  It seems that sometimes judges spend more time looking at the cats when they have to make a choice.  Well, once Gracie granded, Baby started making finals too!  So Baby became a Grand Premier at the Santa Rosa show on February 8, 2014.

CH,GP Sunfox FoolOfGrace of Balerin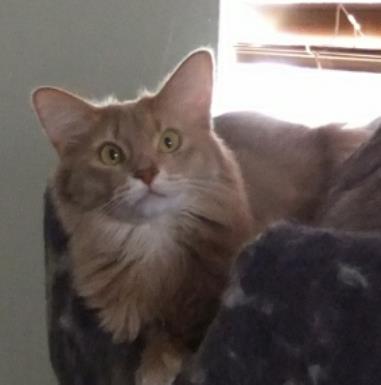 Sire:   CH Tamarakatz Fool's Gold of








          Sunfox
Dam: CH Sunfox Elektra Glide in Blue

We showed Gracie in championship, but stopped so she could have kittens.  Unfortunately, she got very sick with her kittens so we spayed her and decided to show her in premiereship.  Gracie is a riot, she has a lot of fun at the shows.  She became a Grand Premier on January 12, 2014 at Crown City show.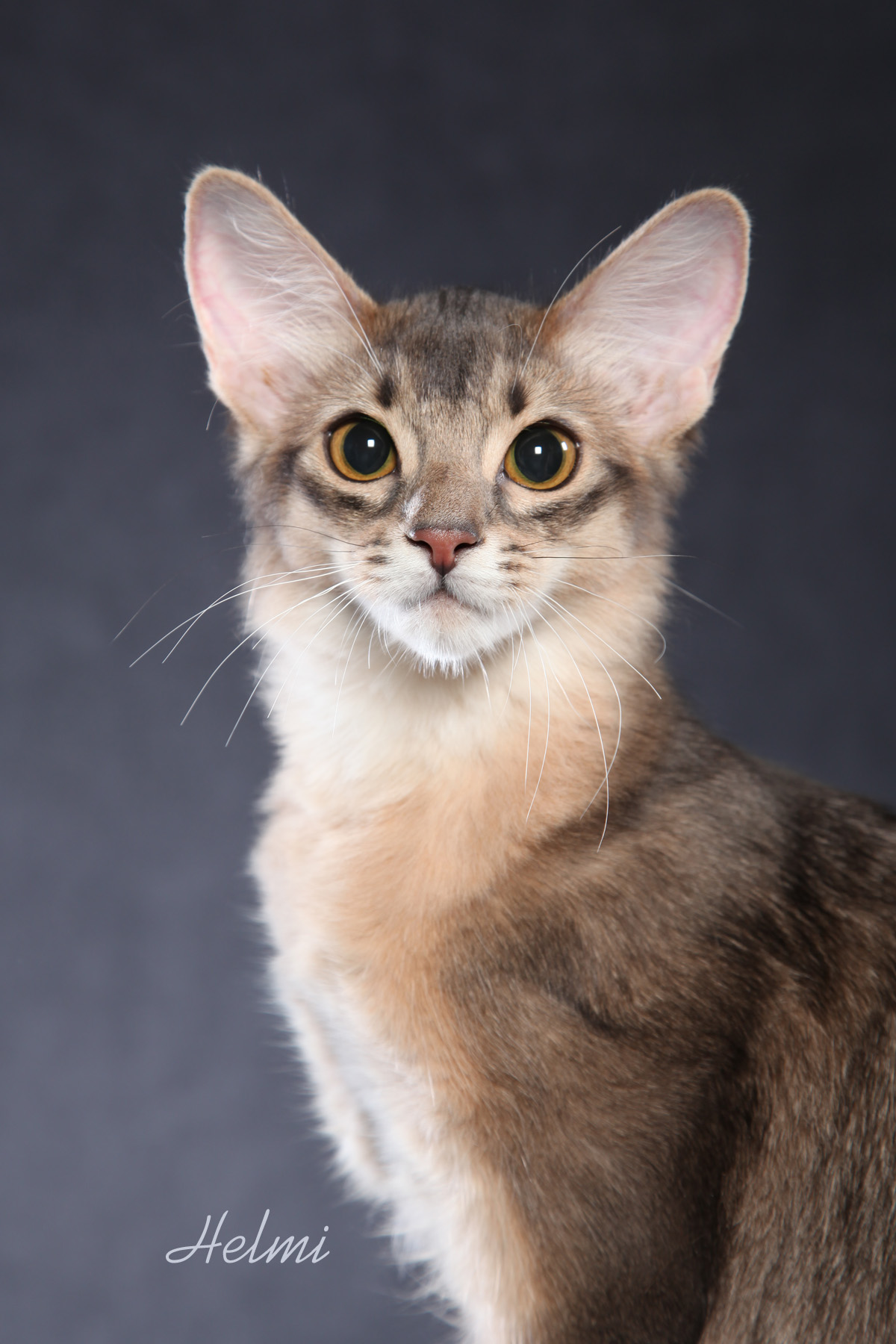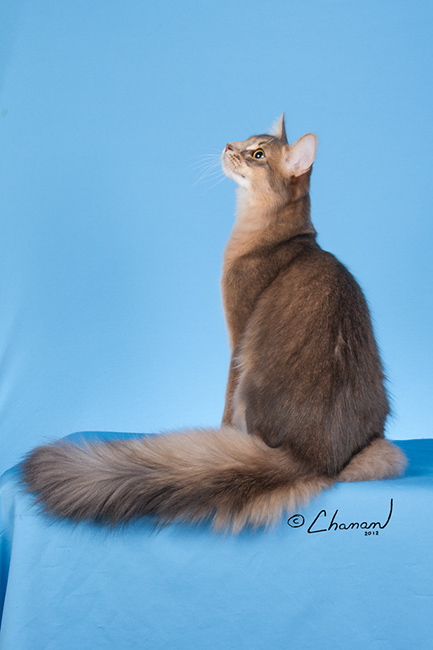 Sire:   CH Tamarakatz Fool's Gold of                             Sunfox

Dam: CH Sunfox Misty Blue, DM

"Pooky" as we called him, had the most beautiful warm color and ticking I've ever seen.  He came the closest of any Sunfox cat to a one show grand, picking up 157 of the needed 200 points in his first show.  From earning his grand title on May 12, 2012 at the Pacific Siamese Fanciers show through July, Pooky earned enough points for his regional win - he died tragically in July from a fever of unknown origin.  Pooky's younger brother, BJ, picked up the torch and went on to earn the breed win for the 2012-2013 season.  Miss you, Pooky Bear.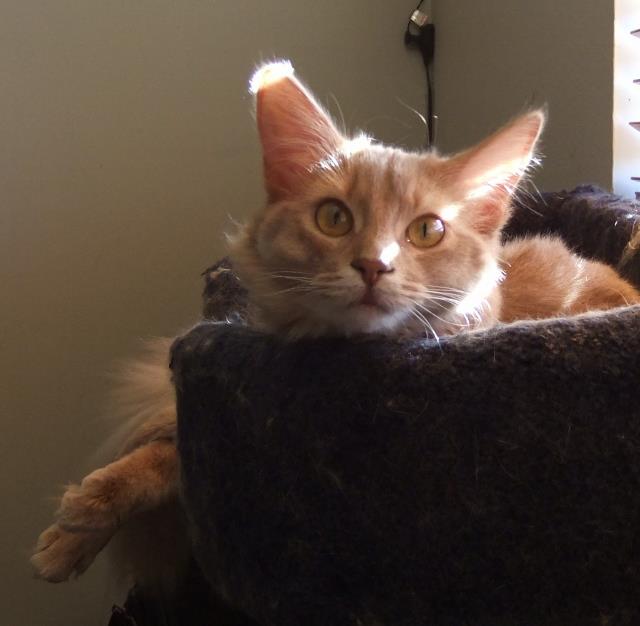 Sire:   CH Tamarakatz Fool's Gold of              Sunfox

Dam: CH Sunfox Misty Blue, DM

"Merrie" is littermate to Baby and BJ, below.  Like we brought Baby out to help Gracie, we brought Merrie out to help Baby.  But by then, we had another purpose.  Baby was the third Grand offspring for momma Misty - only 2 more to grand and Misty would be a DM!  Merrie is quite a shy girl - she showed well as a kitten, but at 2.5 years old she's been a homebody for almost 2 years!  She held out though for 2 shows, and granded at the Sushi Cats show on March 30, 2014

A huge accomplishment for Sunfox cattery occured at the very end of the show season, on April 6, 2014.  Our Misty earned the Distinguished Merit (DM) title.  This is not so much a show title - Misty showed well as a kitten, but lost weight and condition as an adult and didn't show well.  DM is a title given to breeding cats - female cats with 5 grand champion/grand premier offspring (males need 15) and shows the quality of a breeding cat even better than earning show titles.  Misty is a fantastic mom, she gives birth easily to healthy kittens with good health and sweet personalities.    We couldn't ask for more from this sweet girl. Misty continues to do good work at Etude Somalis, raising lovely kittens for them as well.

Misty's Grand Offspring

1.

GC, RW Sunfox Blue Moondance of Balerin, granded May 12, 2012.
2.

GC, BW, RW Sunfox Mr Blujangles, Dancin Fool,  October 12, 2012.
3.

GP Baby I'm A Fool, granded February 8, 2014.
4.

GP M's Memory, granded May 30, 2014.
5.

GC Etude Billy Budd, granded April 6, 2014.
GP Sunfox Baby I'm A Fool

GC, RW Sunfox Blue Moondance of Balerin

Sire:   CH Etude Blue Rondo A La Turk

Dam:  CH Sunfox Creme Brulee