Below are the Somalis currently at Sunfox.   We are working on pages for some of them, but it's a work in progress!  This page will be updated as we get new photos, so check back frequently.  Also several of our retired cats are listed here.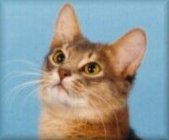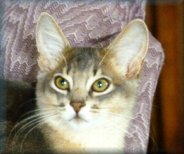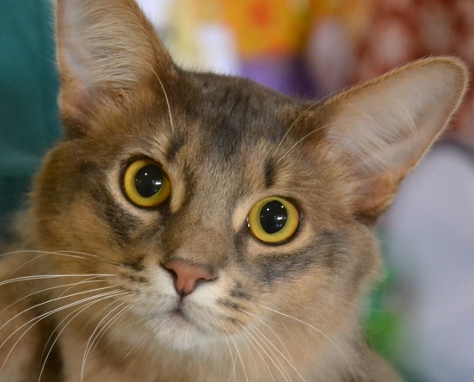 GC, RW, BW Sunfox Mr Blujangles, Dancin Fool

"BJ" is our blue stud male, latest in a line of males descended from our first stud, CH Pirouette's Stardust Ballroom.  In addition to his showing accomplishments, BJ has so far produced 2 beautiful litters of kittens, the younger litter born April 2014.  In addition to his beautiful head, earset and color, BJ has that sweet, loving purrsonality this line is known for.  BJ is blue and carries red.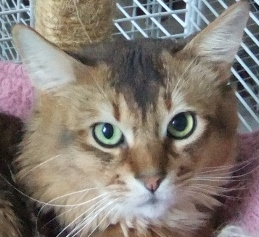 Rampageous Rebel Yell of Sunfox

Rebel is our ruddy stud, who came to us after the death of our dear friend, Mariane Harris of Rampageous Somalis, from cancer.  Rebel is very shy so has never been to a show - but his offspring has been anything but shy!  Rebel has incredible green eyes and a lovely earset.  We have a couple more litters planned with him.  Rebel is ruddy and carries dilute and red (cinnamon).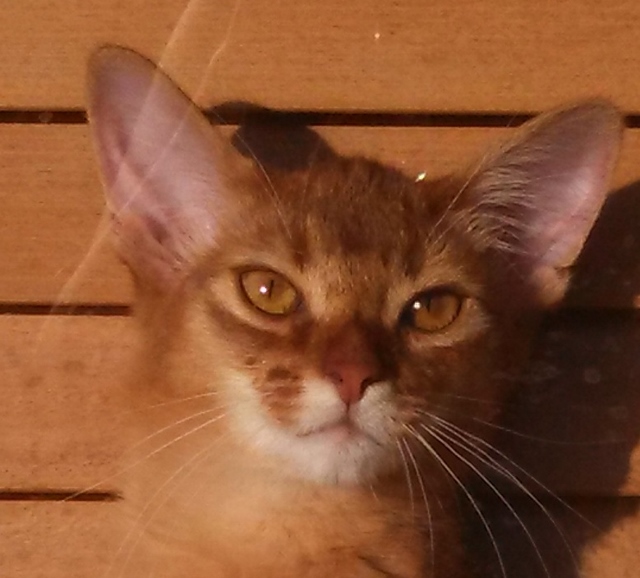 CH Gray Castle Sir Purrcival of Sunfox

Purrcy is our new red (cinnamon) stud boy. He came to us from our friends Mark and Karen Rowe of Gray Castle Somalis.  Not a very good photo - doesn't do justice to his hot red color and beautiful earset.  Purrcy is a BIG Somali, solid as a rock.  While Somalis are supposed to be refined rather than big boned, we don't want them TOO refined, and hopefully Purrcy will help us strike that balance in size.  He's a very sweet boy - and VERY strong!  Purrcy doesn't carry dilute (that we know of) so his offspring will only be red or ruddy.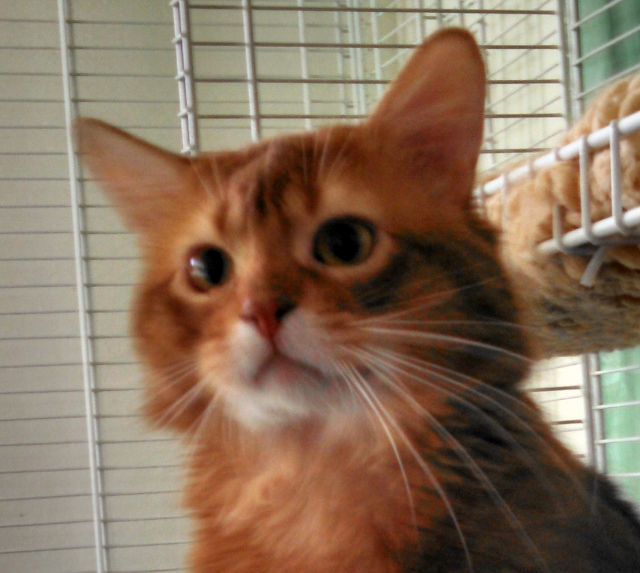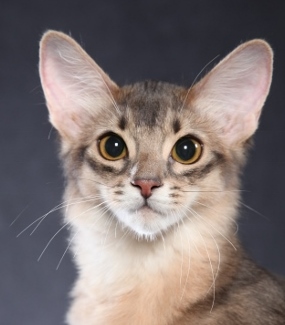 CH Sunfox Misty Blue, DM (photo by Helmi)

Misty is our blue Somali girl, mother to BJ above and several other of our cats (see Show Brags).  Misty is visiting another cattery now, to have some wonderful Somali kittens for them.  Misty carries red so is able to produce all 4 colors.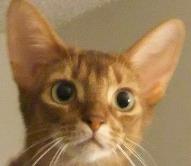 Sunfox Fool 4 Love

Izzy is a red (cinnamon) Abyssinian variant - her mother is an Aby, and her father a Somali.  Izzy has beautiful green eyes, great earset, color and ticking.  She has had 3 gorgeous litters of kittens for us and has been a wonderful mother, even if she does chew the kittens' whiskers off!  Izzy will probably be spayed soon, and we will look for a forever home for her.  Izzy carries dilute, and has produced all the colors except red!

Strazkatz Fiona Dannan of Sunfox

Fiona is a red (cinnamon) Somali girl, who just had her first litter of 5 gorgeous babies.  She proved that she carries dilute which is great news for Sunfox!  Fiona has vibrant color and ticking and sweet and goofy Somali purrsonality.    We adore our Fiona.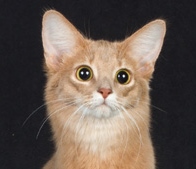 Sunfox Fool Moon

Moonsie is a blue Abyssinian variant, and we don't have a good "head shot" of her just now.  She is a young girl, a "lady in waiting," and will probably be bred in the next few months.  She carries red and can produce all 4 colors.  Now we just have to decide if Rebel or Purrcy will be her date!

CH Sunfox Foolish Heart

Lucy is a fawn Somali, daughter to BJ and Izzy.  She is another "lady in waiting," and will probably be bred in the next few months.  Lucy has a gorgeous head, earset, color, and great purrsonality.  We were showing her, but now that she's growing up and cycling it is harder to show her.  She  can produce all 4 colors, depending on the male.  Now we just have to decide if Rebel or Purrcy will be her date!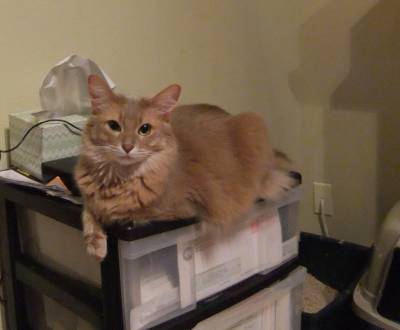 CH, PR Sunfox Creme Brulee (Peanut)

Peanut is a fawn Somali, born in January 2008.  She's incredibly sweet and wants nothing more than to be a lap cat 24-7.  She hates other female cats however, so we've not been able to place her in a forever home where she can get more attention.  She is grandmother to BJ, above.