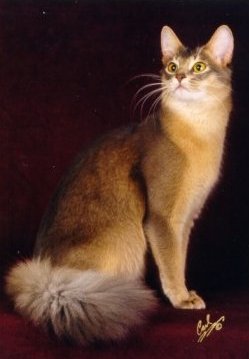 Kelly's Pedigree

Kelly is my first Somali.  He comes from quite a distinguished background.  Kelly's sire, Shadow, is CFA's first dilute Somali to win a regional award.  And Kelly's dam is the first dilute Somali to earn the title of Distinguished Merit (DM).  This title is given to cats whose offspring earn the title of Grand Champion or Grand
Premier; females need 5 grand offspring and males require 15.  Kelly's mom is special for being the first dilute to earn the title (she's a fawn), but also because all 5 of her qualifying offspring are also dilute (blue and fawn).  The photo above was taken in March of 1999 by Carl Widmer.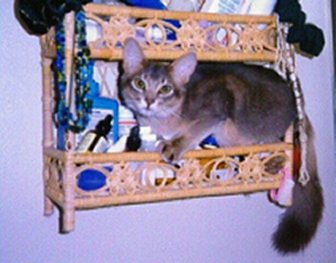 I call this picture "No, Kelly" since that's what I was saying when he looked up at me!  Somalis are beautiful to look at, but they are much more than that.  They are very active and intelligent.  Somalis are interested in everything their people are doing.

Somalis want to help you at the computer, doing the laundry, making the bed (Kelly's favorite - he loves to get under the sheets to play) - you name it, a Somali will try to help you do it!  If are looking for a cat that will sit around looking pretty, you don't want a Somali - they will keep you on your toes, and you may decide you no longer need a television, as they will entertain you as much as you let them.  They love interactive play.  Somalis also tend to retain their playfulness many years past kittenhood, so don't worry that your Somali will grow up to be a sit-around cat; as long as you let them, they'll be active and mischeivous for most of their lives!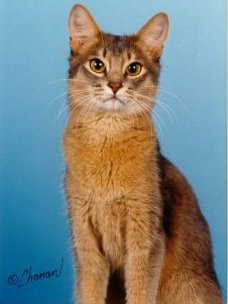 Many of the judges who saw Kelly over the years he was shown commented how much they liked his expression - here is a very good example of it!  This photo was taken by Chanan in January of 1999.




GRP PIROUETTE'S BLUE GENE KELLY OF SUNFOX, blue Somali neuter.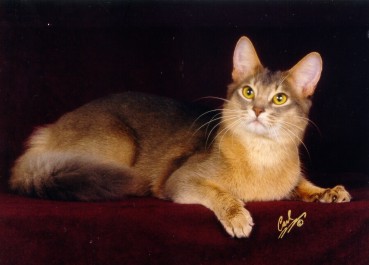 Kelly is a great example of what the blue color should look like.  It's not really "blue", but a dark gray - you can see the gray on his face.  The same color extends over the back and legs, but you can see the warmth of the undercoat coming through.  It gives the cat a very warm look.  While blue and gray are usually very cold colors, on a Somali they provide a wonderful contrast of the warm apricot color against the blue/gray.


All material copyright 2000, 2001 by Lee Dowding. All rights reserved.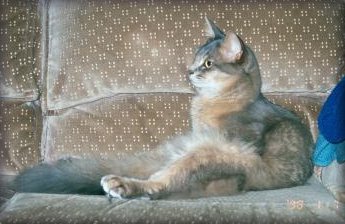 Here's Kelly hangin' out at home.  At 3 years old, he's now a mature cat with a nice full coat that doesn't mat and is easy to groom.